FedEx, UPS and USPS Holiday Peak Surcharges and December 2019 Shipping Deadlines
| | | | | |
| --- | --- | --- | --- | --- |
| | | | | |
It's the most wonderful time of the year. The holiday shopping and shipping season is in full swing. FedEx, UPS and USPS have shared their 2019 holiday deadlines and peak surcharges. Get those gifts out the door and delivered on time. Check out some important shipping deadlines and notes below.
FedEx announced they will again not apply additional residential surcharges for the 2019 Holiday season. They will have

peak surcharges

to shipments that qualify as over-sized, unauthorized or require additional handling.
StarShip utilizes FedEx web services so those surcharges will automatically be reflected in our rate quote as a part of the total quote provided.
UPS announced they will also not apply additional residential U.S. surcharges. They will have additional peak surcharges for contractual exceptions, large packages, over maximum limits or additional handling packages.
USPS has no peak surcharges for the Holiday season but they do have a Holiday Page to purchase stamps, ship from home and shipping tips.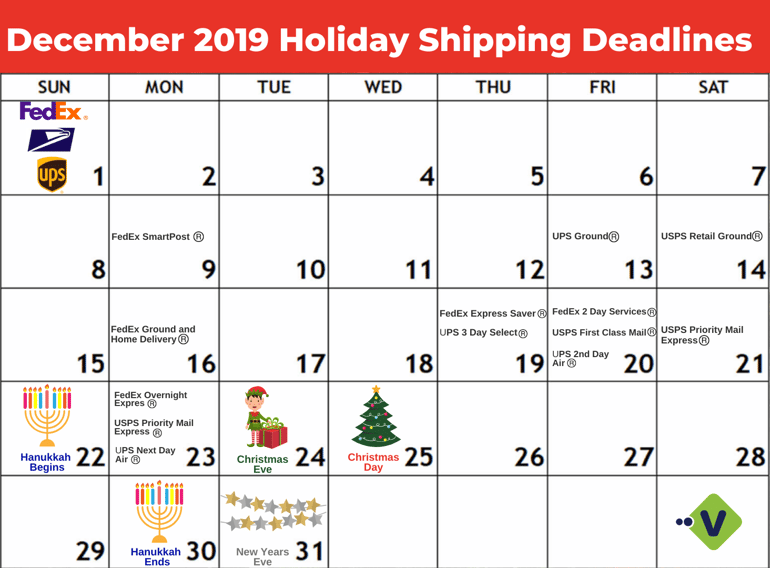 About us here at V-Technologies:
Founded in 1987, we offer integrated multi-carrier shipping software that connects the warehouse to the front office. We partner with dozens of parcel and LTL carriers such as ABF Freight, DHL, ESTES, FedEx, R+L, UPS, USPS, YRC and more as well as regional carriers like OnTrac and PITT OHIO. Our software provides integration between those carriers and popular ERP, EDI, accounting and eCommerce platforms such as Acumatica, Acctivate, Amazon, eBay, Infor, Magento, Microsoft Dynamics GP, Sage, Shopify and QuickBooks to name a few.
Contact us today for more information: 800-462-4016 email: sales@vtechnologies.com