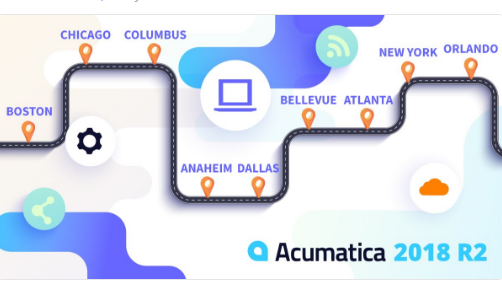 Acumatica Roadshow 2018 R2
V-Technologies is happy to announce we will be an exhibitor sponsor at the Acumatica 2018 R2 roadshow in Atlanta and NY. We will also be in Boston, Chicago and Orlando to answer any questions on our Acumatica shipping software integration. The roadshows are a great opportunity to network with consultants, learn about the latest release and get the insight you need to fully utilize Acumatica R2!
Roadshows we will be at:
Boston, MA (9/12/18)
Chicago, IL (10/2/18)
Atlanta, GA (10/11/18)
New York, NY (10/16/18)
Orlando, FL (10/18/18)

Stop by our booth (or find us hanging out with our friends at APS) to say hello and learn how StarShip shipping software for Acumatica combines parcel and freight carriers into one user interface. The bi-directional interface streamlines the entire workflow to gain immediate efficiencies in shipment processing, accounts receivable and customer service. We can create custom emails and labels to strengthen your brand and drive repeat business.