Earlier this month, V-Technologies launched a new subscription pricing model with new service levels available when purchasing ShipGear. ShipGear is the leading shipping software solution providing instant integration between UPS WorldShip, FedEx Ship Manager or with business applications to: Amazon, eBay, Macola, Microsoft Dynamics GP, QuickBooks, QuickBooks Online, Sage 50 and Sage 100. There are several advantages to this new pricing model including flexible pricing, additional product features and the option to discontinue service at any time.
Find ShipGear pricing plan details HERE.
ShipGear pricing benefits:
Pay monthly or annually - The new model offers more flexibility to pay monthly or annually for one or more years. ShipGear is even more affordable for customers who want to avoid an upfront investment with a low monthly fee. Customers who pay upfront with a minimum of one year are eligible for a discount.
Scalable pricing levels - Pricing is based on the number of packages shipped per month. As a customer's business grows, ShipGear's pricing plan levels increase in service offerings. See Prima, Mezza, Suprema and Ultima plan details in chart below...
Unlimited Support - All plans include the ability to access Support via email. Unlimited phone support is available with the Mezza, Suprema and Ultima plans.
Unlimited users - Add as many users to access ShipGear as necessary.
Value-adds included - ShipGear value adds include: Dashboard, branded email and Freight Rules. These are bundled with our three top plans.
ShipGear Dashboard is a web enabled application that provides quick access to current and past shipments. Search and sort by a number of fields and track shipping information with one click of the mouse. It is especially helpful for Customer Service and Sales Representatives who need quick access to respond to customer inquiries.
ShipGear Branded Email provides all the tools needed to completely customize outbound shipment notification emails. It's simple to set-up and includes the capability to include fields from a variety of sources such as ERP/business application or carrier software.
ShipGear Freight Rules gives complete control over how and when freight charges are updated on orders, invoices or sales receipts. ShipGear Freight Rules provides total automation of freight billing.
Multi-Source - Businesses running multiple companies or using eBay and QuickBooks, for instance, may require more than one interface. All plans allow customers to use more than one of our available interfaces including: Amazon, eBay, Macola, Microsoft Dynamics GP, QuickBooks, QuickBooks Online, Sage 50 and Sage 100 (formerly MAS 90 and MAS 200).
Dedicated Account Manager - The Suprema and Ultima plans give ShipGear customers access to a Dedicated Account Manager for personalized service.
Purchase with FedEx or UPS subsidy funds - Customers with valid approval code with funds awarded by the FedEx Tech Awards or UPS Customer Technology Program (CTP) apply towards the cost for the purchase of ShipGear for one or more years.
Product Updates - Active subscribers stay current with the latest ShipGear product updates released throughout the year.
Upgrade to StarShip anytime - ShipGear subscribers have the option to upgrade to StarShip anytime shipping needs change. StarShip offers multi-carrier access from one interface, rate shopping for small parcel and LTL from one application along with warehouse management or EDI integration.
Option to cancel anytime - Customers on the monthly pricing plan have the option to cancel anytime for any reason. Customers who pay with the monthly billing option are not locked in with contracts or cancellation fees.
ShipGear pricing plans details:
Each plan is tailored to fit the shipping needs of start-up businesses and scales up to meet the needs of growing mid-market businesses. Each ShipGear license includes shipping with a single carrier* for one location. Carrier options include UPS WorldShip and/or FedEx Ship Manager.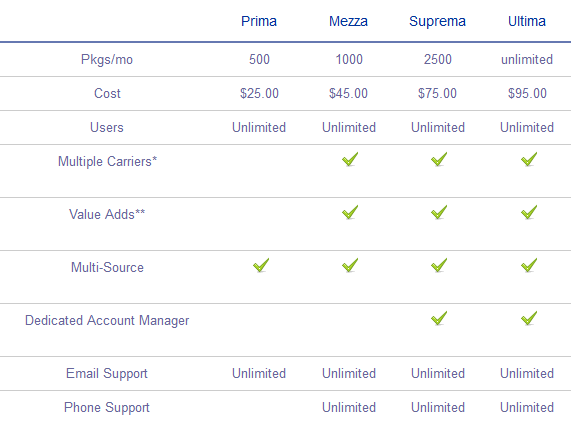 * First carrier is included with your plan. Additional carriers can be added for $10/month
** Value adds include: Dashboard, Freight Rules and branded email.
Start your free ShipGear 30 day trial today:
ShipGear integrates with: eBay, Macola, Microsoft Dynamics GP, QuickBooks, QuickBooks Online, Sage 50 and Sage 100 (formerly MAS 90 and MAS 200). Start your free trial today. You have access to our Support department team if you have any questions throughout your trial.