What is dimensional (DIM) weight and how are these new changes going to affect businesses and their shipments?
Dimensional (DIM) weight billing is calculated by comparing the actual weight to the package volume.
UPS: Prior to 12/29/14 UPS applied the (DIM) weight calculation to all Air packages and only to Ground packages larger than three cubic feet. Now with the new (DIM) weight calculation in 2015, UPS will apply the new (DIM) weight calculation to all Air and ALL Ground packages.
FedEx: Prior to 1/5/2015 FedEx applied the (DIM) weight billing to all Air packages and, just like UPS, only Ground packages larger than three cubic feet. Now they are charging the (DIM) weight fee to both Air and Ground packages.
USPS: Priority mail charges have not changed and remain the same in 2015. The (DIM) weight calculation only applies to packages larger than one cubic foot going to zones 5-9, where the Balloon rate applies for packages going to zones 1-4.
Moving forward DIM Weight charges will be applied as follows: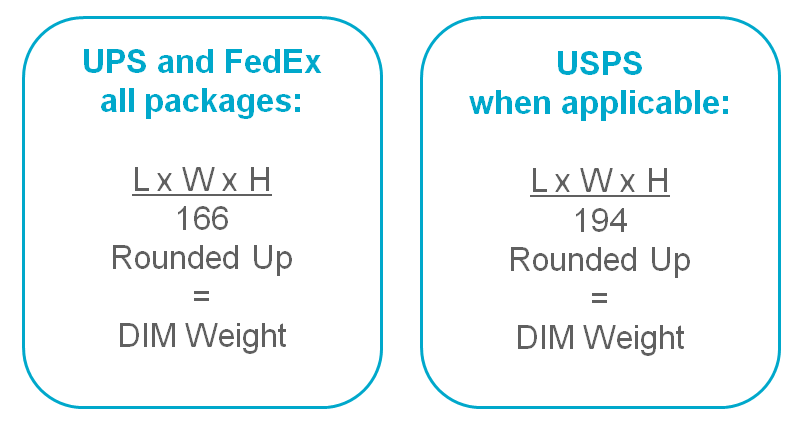 If a shipper is shipping a women's shoulder bag, for example, with dimensions of 19" x 15" x 5" and the actual weight of the women's shoulder bag is 2 lbs. the (DIM) weight is actually 9 lbs. We calculate the (DIM) weight in this scenario by dividing the shipment volume of 1,425 by 166 which equals 8.58 and rounding up it is 9 lbs. In this scenario FedEx/UPS would have charged $8.51 in the past, now with the new changes they will be charging $10.89 so the average cost increases 27.9%. If the shipper ships 50 pkgs/day the increase in monthly cost in 2015 is $2,377.14.
Tips to Identify Savings
Start evaluating your shipping mix today
Identify common package sizes and weights

Pay special attention to medium and large lightweight items

Determine if dimensional weights will apply

Calculate the potential impact, including surcharges

Look for opportunities to pack more efficiently without risking damage to merchandise

Define commonly used box dimensions for ease of processing

Utilize settings to require input of this critical data!

Take advantage of ship via rules to automatically determine "best way"

Get re-familiar with carrier contracts and work with your carrier account representative - analyze minimum charges, DIM factor and discounts

Consider regional carriers such as OnTrac and Spee-Dee Delivery

Leverage new USPS Priority Mail prices where it makes sense for your business

Look at USPS Flat Rate Packaging & Cubic Volume Rates
What is needed to support USPS DIM weight and cubic volume discounts?
Provide LxWxH in StarShip

Select Flat Rate Packaging

Do you meet minimum volume requirements for cubic pricing?
Dealing with the new dimensional weight rules can be time consuming and costly with certain types of merchandise. Please give us a call to ease the struggle via our automated shipping solutions: 800-462-4016 or email us!