Important Reminder
ShipGear is Sunsetting on
December 31st, 2023
- Beat The Clock!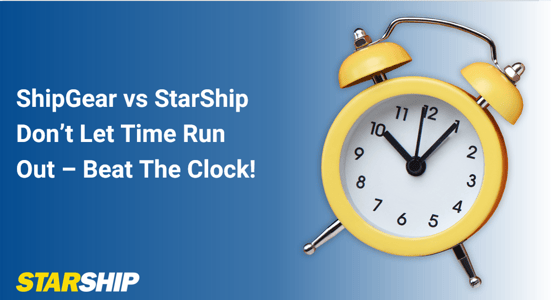 Shipping

Webinar:
Date: Wednesday, September 20th, 2023

Time: 2 PM ET / 11 AM PT (20 mins)
Thank you for your business over the years. We invite you to please join us and discover more about our flagship product, StarShip Cloud. As well as a special migration offer we're extending to you as a valued ShipGear customer.
Important reminder don't let time run out. We've notified all customers of our decision to no longer support or maintain ShipGear after December 31st, 2023.
On this webinar, you'll learn about:
1. Advantages of using a multi-carrier platform
2. How to simplify your small parcel and LTL shipping
3. Advanced analytics and reporting dashboard
4. Looming risks of remaining on ShipGear throughout 2023
Here's what a former ShipGear customer has to say about moving to StarShip:
"Before, I was going to 3 or 4 different websites to compare shipping rates and options. Now, all that information is pulled right into StarShip so I can instantly see who can get it there fastest and cheapest. That feature alone not only saves money, but a ton of time."
We look forward to "seeing" you on Wednesday, September 20th!