Automate the Manufacturing Process within Sage 100 ERP
Title: Sage 100 ERP Integrated Manufacturing and Shipping Automation
Who: Manufacturers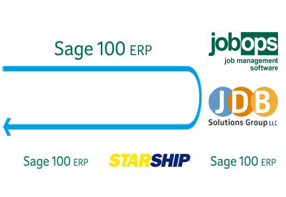 Date: Thursday, February 26, 2015
Time: 10 AM PT / 1:00 PM ET
The manufacturing floor is the heart of a manufacturing business. Errors in the manufacturing operation can undermine operations, resulting in customer dissatisfaction and financial disaster. Using software to automate your manufacturing processes improves inventory accuracy and warehouse efficiency enabling your personnel to focus on customer service and sales.
If you are a manufacturer using Sage 100 ERP please join us for our complimentary webinar to learn 16 ways to process more orders, increase business and lower costs.
Learn how to automate the following manufacturing processes in Sage 100 ERP:
Monitor job status, review refine and improve estimating, job planning

Confirm quotes are accurate before production begins

Determine material availability

Notify purchasing of shortages

Identify scheduling bottlenecks and what can be promised

Keep jobs on schedule with drag and drop scheduling scenario tools

Configure custom products and services

Speed up quoting, estimating, order entry and production process to deliver more product with less cost

Track Live Shop floor information against Work Tickets
Using PC's, Tablets, Touch screens, Mobile devices or Apple

Labor Tracking – productive or non-productive

"Outside Processing" tracking

QC information collection

Material issues and auto issuing

Status changes

MTS Closing Entries from the floor
Label Printing for MTS Closing
Live Dashboard in JobOps and Shop Floor tracking to see the following:
Where is a job is at any given time

Who is working on what Work Ticket

What is the status or position of a Work Ticket on the Floor

Where are my outside processed jobs

What is coming next to my department or work center
Track field service or remote information tracking needs
Mobile devices from the field collecting information and seamlessly sending it back into JobOps for processing

Field service collection

Service and installation crews and their data collection

Remote manufacturing collection devices as well
Send email shipment notifications complete with item to package detail.
Reduce carrier address correction fees using the embedded address validation features.
Take advantage of 3rd party insurance to save up to 85%.
Easily report on late deliveries to obtain refunds.
And some really nice data reporting, dashboards and information reporting options at your fingertips.