We're heading to Las Vegas for Acumatica Summit, January 29th- February 3rd - visit us in booth #323!
Acumatica is hosting its 12th annual Summit at the Wynn in Las Vegas, Nevada. We're excited to share that Matt St. John, our Acumatica senior account executive and Simon Volta, our regional account director, will be there! They're looking forward to connecting with new and existing users as well as partners to learn more about their Acumatica journey and share helpful information about our powerful integrated Acumatica shipping solution, StarShip!
Summit Agenda:
Sunday, January 29th- Join us and other acu-connect members for a meet and greet,

learn how you can network with the entire Acumatica ecosystem

(3:30pm-4:30pm) in room
Margaux 1 and 2 - Welcome reception with food and cocktails in the Marketplace - Lafite and Latour Ballrooms (6pm-8pm)
Monday, January 30th- Morning Yoga (6:15am-7:15am) - Breakfast (7:30am-9am) - Day 1 keynote and multiple sessions (9am-5:20pm) - Women in Tech Networking Workshop (6:30pm-7:30pm) and THEN the Summit celebration party/dinner at the XS Nightclub (7:30pm-10:30pm)
Tuesday, January 31st- Morning fun run (6am-7am) - Breakfast (7:30am-9am) - Day 2 keynote and multiple sessions (8:30am-4:30pm) - Closing Reception (3:30pm-6pm)
Wednesday, February 1st-Friday, February 3rd

Additional training courses and workshops
Learn how StarShip can simplify and boost your Acumatica shipping!
StarShip's Acumatica shipping plugin can rate shop and ship with dozens of small parcel and LTL carriers from one place. Visit us in booth #323 and learn how StarShip can help save you time, make educated shipping decisions, strengthen your brand and drive repeat traffic!
Click here to learn additional details about the show!
Visit us and other top ISV solutions for a chance to win big!
We've partnered with acu-connect for a special giveaway - stop by and meet us in booth #323 and learn how you can be entered to win a $2,000 Visa gift card!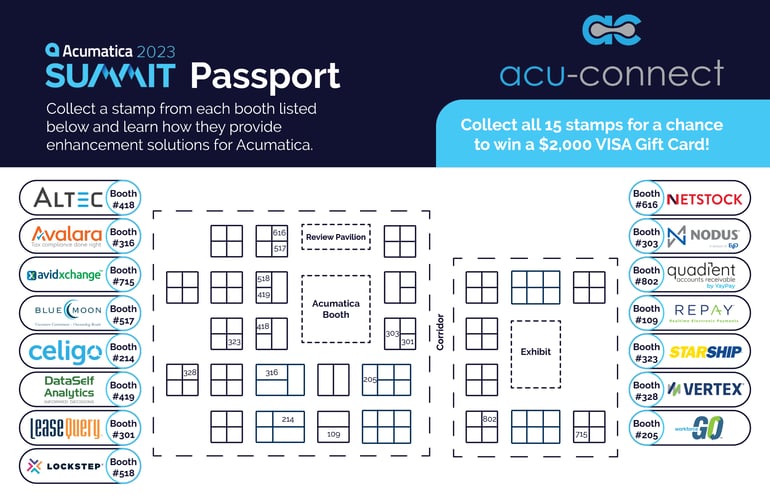 About us here at V-Technologies:
Shipping. Simplified. We're the developer of StarShip shipping software. 35+ years and 10,000 customers later - StarShip remains the premier Acumatica shipping solution! From parcel to LTL, domestic to international, drop shipping to hazmat, we're got you covered!
Over the last 3 and a half decades, we've formed strategic partnerships with dozens of parcel and LTL carriers like UPS, FedEx and USPS as well as ABF, DHL, ESTES, YRC and XPO to 3PLs such as WWEX and Freightview. StarShip also offers discounted USPS rates to further save on shipping. We'd love to learn more about your business so stop by booth #323 and say hi!
About Acumatica:
Cloud-based business management software that enables small/mid-size companies to accelerate their businesses. Built on cloud technology, Acumatica delivers a suite of fully integrated business management applications such as Distribution, CRM, and Accounting.
We look forward to seeing you in Vegas! #AcumaticaSummit - Visit us in booth #323!