We're heading to Las Vegas for the Acumatica Summit, January 26th-31st, visit us in booth #27!
Acumatica announced they will be hosting their annual summit at the Cosmopolitan in Las Vegas, Nevada. We're thrilled to share Matt St. John, our Acumatica shipping specialist, Caroline Rua, VP of Sales/Marketing, and Simon Volta, Director of Sales, will be there for the 5th year! Their goal at this event is to build networking relationships among users and to educate attendees about our powerful Acumatica shipping solution, StarShip.
Summit Agenda:
Sunday, January 26th- Acumatica user group Summit meet and greet (2pm-4pm) and the Acumatica welcome reception at the Belmont Ballroom (5pm-8pm)

Monday, January 27th- Day 1 keynote, multiple sessions (8:30am-5:20pm) and then the attendee party at the Hakkasan, MGM Grand (6:30pm-9:30pm)

Tuesday, January 28th- Fun run and yoga (6am-7am), day 2 keynote and multiple sessions (8:30am-4:30pm)

Wednesday, January 29th-Friday, January 31st- additional training courses
Learn how StarShip can supercharge your Acumatica shipping!
With StarShip's Acumatica shipping plugin you can rate shop and ship dozens of small parcel and LTL carriers in one application. Stop by our booth #27 and learn how StarShip can save you time, make smarter shipping decisions, strengthen your brand and drive repeat business.
Click here to learn additional details about the show!
Visit us and other top solutions for a chance to win $2,500!
We've partnered with APS Payments, Artsyl, Avalara, DataSelf, ERPVAR, Netstock and other best of breed solutions to provide a who's who in Acumatica coupled with a chance to walk away with some gambling funds! Stop by booth #27 to learn more.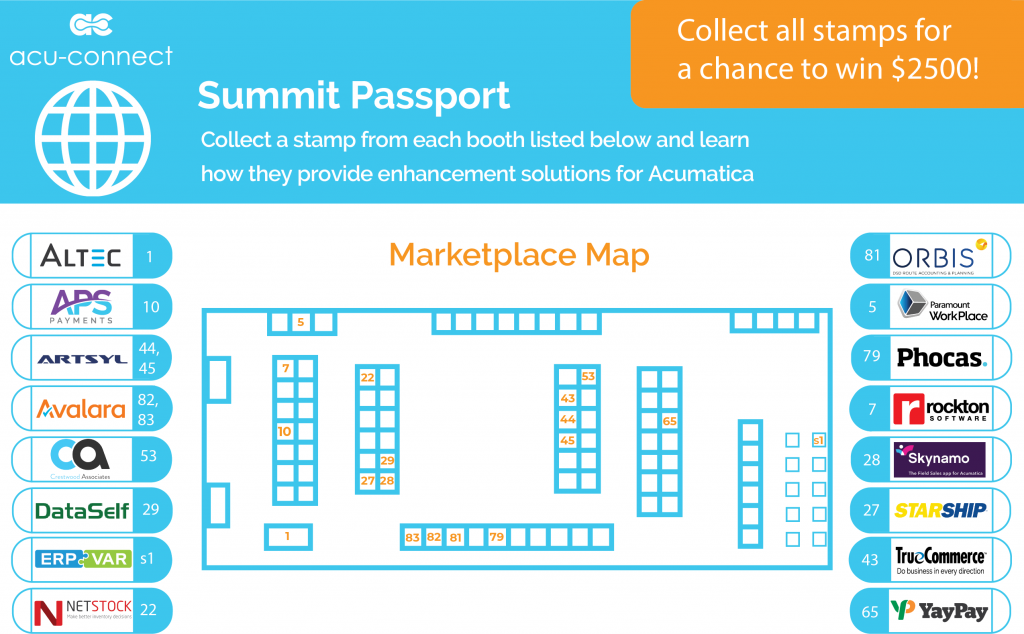 About us here at V-Technologies:
Shipping. Simplified. We're the developer of StarShip shipping software. 30+ years and 10,000 customers later - StarShip is the Gold standard for Acumatica shipping solutions.
We've formed strategic partnerships with dozens of carriers such as UPS, FedEx and USPS as well as LTL carriers from ABF Freight, DHL, Holland and YRC to 3PLs such as WWEX and CH Robinson. StarShip also offers discounted USPS rates to further reduce freight spend.
About Acumatica:
Cloud-based business management software that enables small and mid-size companies to accelerate their businesses. Built on cloud technology and a unique customer-centric licensing model. Acumatica delivers a suite of fully integrated business management applications, such as Financials, Distribution, CRM, and Accounting, on a flexible platform.
We look forward to seeing you in Las Vegas! #AcumaticaSummit - Stop and see us in booth #27