Exclusive Virtual Conference
Date: November 3rd-4th, 2021

Time: 11 AM-5PM ET / 8AM-2PM PT
Happy to share that we are a gold sponsor for the 2nd annual acuCONNECT 2021 virtual conference! Join us for 2 days of insightful sessions packed with valuable content presented by Acumatica experts. The virtual Expo Hall will have many helpful solutions where you can learn more about expanding the capabilities of Acumatica Cloud ERP.
AcuCONNECT 2021 is THE virtual conference for Acumatica customers + partners to:
Learn from Acumatica experts how you can get the most out of Acumatica
Share your knowledge about how you use Acumatica to help manage your business
Connect with other Acumatica community members and

solution providers
Join Matt St. John for the "Acumatica Shipping Tips and Tricks with StarShip" session on Wednesday, November 3rd at 12:45 pm ET / 9:45 am PT!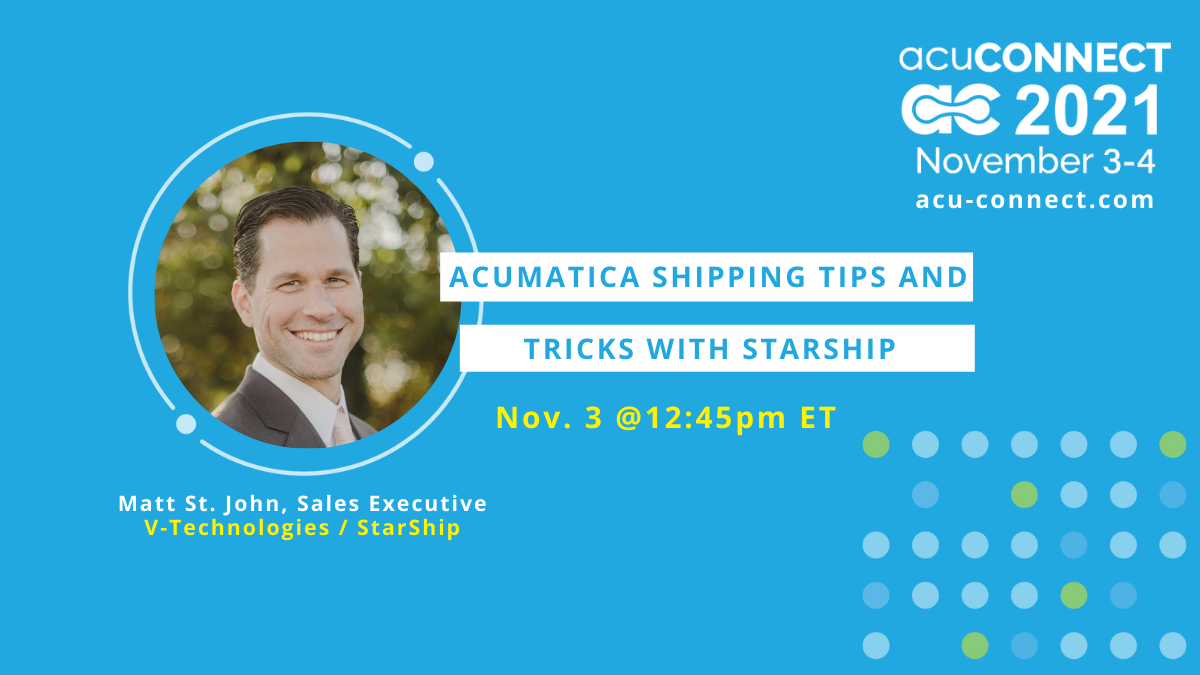 Don't miss this opportunity to learn more about Acumatica Cloud ERP – not to mention the chance to win prizes, have fun, and it's FREE thanks to the generous support of our sponsors!
About us V-Technologies:
Shipping. Simplified. We're the developer of StarShip shipping software. 30+ years and 10,000 customers later, StarShip is the premier Acumatica shipping solution! From parcel to LTL, domestic to international, drop shipping to hazmat, we're got you covered!
Over the last 3 decades, we've formed strategic partnerships with dozens of parcel and LTL carriers like UPS, FedEx and USPS as well as DHL, ESTES and YRC to 3PLs such as WWEX and CH Robinson. StarShip also offers discounted USPS rates to further save on shipping. We'd love to learn more about your business so stop by our booth and say hi!
About Acumatica:
Cloud-based business management software that enables small/mid-size companies to accelerate their businesses. Built on cloud technology and a unique customer-centric licensing model. Acumatica delivers a suite of fully integrated business management applications, such as Financials, Distribution, CRM, and Accounting.
We look forward to "seeing" you November 3rd-4th! #acuCONNECT2021