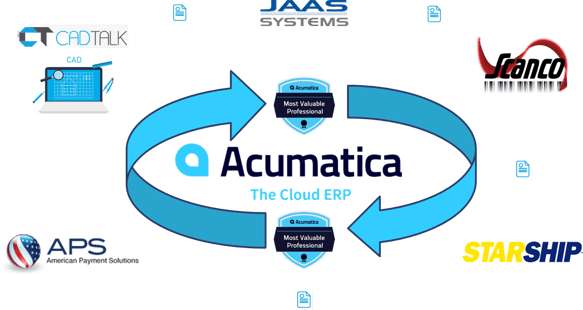 Complimentary Webinar
Date: Thursday, July 27, 2017
Time: 11 AM PT / 2 PM ET
Presented by:
CADTalk for Acumatica is a CAD integration tool that eliminates the manual transfer of data from CAD software into Acumatica.
Join our friends at Acumatica, CADTalk, JAAS Systems, Scanco, American Payment Solutions and StarShip for a complimentary webinar on Thursday, July 27. We will demonstrate how to import CAD data into Acumatica to automate the manufacturing, WMS, shipping, and payment process to eliminate duplicate data entry and human error.
The benefits of CAD integration with Acumatica:
Eliminates duplicate data entry by 100%
Increases data integrity and BOM accuracy
Reduces engineering to production lead time up to 80%
Easily integrates CAD/PDM system into Acumatica
Integrates with JAMS for Acumatica
Automate the following manufacturing processes in JAMS for Acumatica:
Monitor job status, review, refine and improve estimating, job planning
Confirm quotes are accurate before production begins
Determine material availability
Notify purchasing of shortages
Identify scheduling bottlenecks and what can be promised
Configure custom products and services
Speed up quoting, estimating, order entry and production process to deliver more product with less cost
Track live shop floor information against work ticket
Labor Tracking – productive or non-productive
Integrates with Scanco WMS for Acumatica
Automate MFG process by tracking labor, material and production entries with Scanco mobile solutions for JAMS and Acumatica. Process shipments faster and more effective with Scanco's Warehouse App made specifically for Acumatica.
Track production labor

Track material for improved purchasing

Track finished goods during production
Continuous sync for real-time data – on or offline for MFG
Automated pick-pack WMS

Strengthen supplier relationships

Integrates with StarShip for Acumatica
Automate shipping processes in StarShip for Acumatica:
Eliminate manual re-keying of data into carrier systems
Multi-carrier / Multi-mode allows you to rate shop and ship small parcel and LTL carriers from one application
Streamline international shipments and automatically generate associated documents
Create custom emails and labels to strengthen your brand and drive repeat business

Integrates with American Payment Solutions for Acumatica
Get paid faster with American Payment Solutions integrated credit card processing for Acumatica:
PCI-DSS compliance assistance at no additional cost
Some of the lowest Amex fees in the entire industry!
Next day funding available (Amex included)
Access to the Level III Gateway for lower interchange rates
We look forward to "seeing" you Thursday, July 27, 2017!