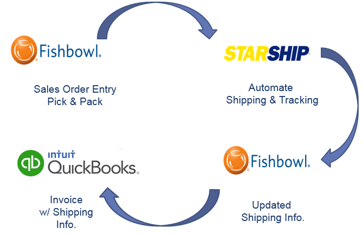 5 Ways to Save When You Pick, Pack and Ship With Fishbowl and StarShip for QuickBooks
Excited to share more on our partnership with Fishbowl. The close shipping integration between StarShip and Fishbowl was developed several years ago. To provide additional insight we invited Fishbowl, the QuickBooks inventory experts, to partner with us on an upcoming webinar.
Shippers can save a great deal of time AND money with this integration to Fishbowl and QuickBooks. Learn about 5 ways to save and supercharge your pick, pack and ship process for QuickBooks.

5 Ways to save on your QuickBooks Shipping and Inventory Management:
Strategic tips on inventory management and implementation


Learn how mobile handheld scanners can streamline your packing

Seamless integration from StarShip > Fishbowl > QuickBooks




Supercharge your entire shipping and packing workflow with this trifecta

Pick and pack your orders quickly and easily


Efficiently pick in bin location order and warehouse zones

Quickly rate shop and ship with dozens of small parcel and LTL carriers


Simplify LTL and small package shipping

Send automatic emails that build brand awareness and drive repeat traffic


Provide item-level detail and send emails out as shipments are processed
Also, check out the video below or sign up now for our Fishbowl webinar to learn how the StarShip shipping solution integrates with Fishbowl inventory management.

More about Fishbowl- Streamline your operation with powerful inventory management. Add extra functionality to QuickBooks with barcode technology and mobile computers to efficiently pick and pack orders, a powerful asset tracking solution. StarShip shipping software takes those details to complete the shipping process, integrating to dozens of parcel and LTL carriers such as UPS, FedEx, USPS and YRC. Now you can eliminate manual, duplicate entry and increase productivity with these leading solutions working together.

More about StarShip by V-Technologies- StarShip is a multi-carrier shipping solution that features turnkey interfaces to gain efficiencies and streamline shipping, accounts receivable and customer service. Connect to many popular Ecommerce and ERP interfaces such as Acumatica, Amazon, Dynamics GP, eBay, Magento, QuickBooks, Sage, and SAP Business One. Give the warehouse instant access to orders and invoices. Simply scan the doc number from your pick sheet to auto-populate the ship screen. Multi-carrier mode lets you rate shop between carriers and choose the best shipping method with just one click.

Check out the link below for more information or Email us: sales@vtechnologies.com