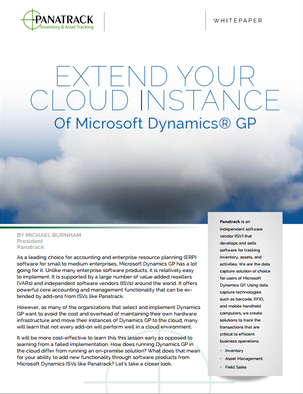 This is the first in a series of guest blog posts from our friends at Panatrack contributed by Michael Burnham. We have been offering our Dynamics GP integrated shipping software, StarShip with Panatrack WMS for years. The combined PanatrackerGP and StarShip solutions bring together industry leaders to offer a complete warehouse management solution for Microsoft Dynamics GP customers. Please read Michael's guest post below:
Microsoft Dynamics GP differs from a lot of other business software in that it predominantly relies on a thick desktop client to present the best user experience. More recent versions, including GP 2013 and GP 2015, also offer a web browser interface. However, the thick client is usually preferred due to the usability advantages of a rich user interface.
Web-based business software often presents usability tradeoffs because it must be simplified to the point where it can be delivered via a browser. However, a cloud instance of Dynamics GP is typically presented to users using remote desktop technology such as terminal server or Citrix Server. Users get access to a virtual desktop that is in fact located on a remote machine. This delivers a "richer" user experience than web-based software that is limited to HTML and related technologies. In months and years to come, GP's web client will become more advanced and present a user experience on par with the thick client. This will make cloud provisioning of Dynamics GP even more attractive from a cost and performance standpoint.
Today, when someone operates Dynamics GP in the cloud, they are basically relocating the database server and application server from an on-premise location to a data center run and managed by a third party. This cloud arrangement offers an organization running Dynamics GP a number of benefits. First of all, it eliminates their need to invest in the hardware necessary to run their instance of Dynamics GP. It also removes the need to have the technological skill to administer a SQL Server database or the application itself. Furthermore, if their business operates in multiple time zones, it is easier to support users 24x7x365 even as IT staff may take vacations, get sick or just go home and sleep.
A managed cloud vendor will also be able to deliver a degree of predictability that is hard to attain internally, thanks to their extensive resources and infrastructure. What makes the cloud different from traditional managed services however is the scalability and global accessibility of data centers like those run by Microsoft Azure. As your business grows and your computing needs increase, a cloud data center can scale your server capacity dynamically and eliminates the guesswork involved in hardware sizing for server capacity. You often pay for what you use, with the confidence that your applications and data will be available anywhere in the world.
So there is a strong upside to running a thick-client version of Dynamics GP in the cloud, and a future that promises an even more robust interface designed for cloud-based software delivery. However, moving the application to the cloud is more than relocating a few pieces of software.
About Panatrack - Guest Blog Author Michael Burnham
Panatrack has been in business since 1996 and began its life in the field of operations consulting and software development. Today Panatrack is a software development firm specializing in systems for tracking inventory, assets, and activities. Using data-capture technologies such as bar code, RFID, and wireless mobile computers, the company creates pre-packaged and custom solutions to track comprehensive details about the real-time transactions that are critical to efficient business operations. Headquartered in Delafield, Wisconsin, Panatrack's customers span the range from large corporations to very small operations. Additional information about Panatrack and its solutions is available at http://panatrack.com.
Also see our page below for more information: